Northeast Brazil, a region of opportunity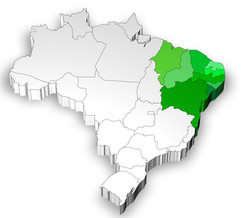 The world is realizing that Brazil is much more then Rio de Janeiro and Sao Paulo.

Northeast Brazil is experiencing larger growth then the rest of Brazil and provides a unique opportunity as entering point for companies that aren't already established on the Brazilian market.

Established in 1997 MultiTrade has several years of experience in the North-eastern region of Brazil.

Our current portfolio primarily consists of food products for Retail and Food Service.
We are constantly looking for new and interesting products.
Often this is initiated on request from one of our customers that is looking for a specific product.

Our services consist of:
Representation including sales and after sales services
Supporting international partners in bringing new products to the market
Provide import services on behalf of a third parties who do not have their own import license
We are also able to provide business consulting to companies interested in entering the Brazilian market